9 Elements Of A Good Google Ad With Examples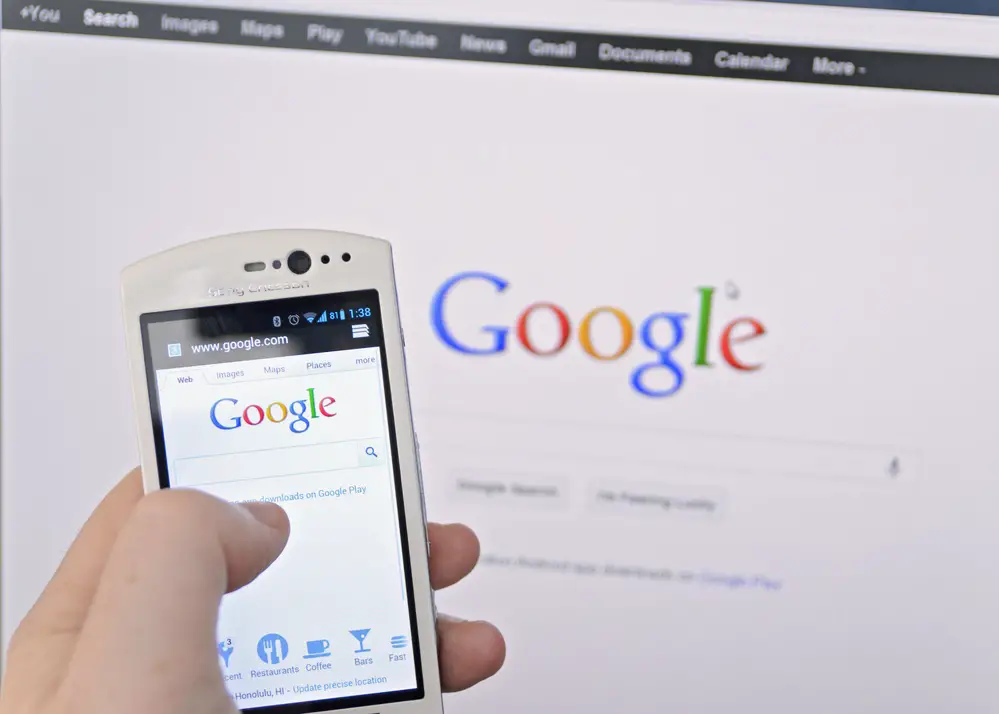 Writing effective ad copy can be a dreadful task.
How many of you spent 15 minutes 2 years ago generating some Google Ad copy and haven't touched it since?
If that sounds familiar, you're missing out on some easy wins.
There's a lot you can quickly do to optimize your advertising copy to increase clicks, conversions, and quality scores all while targeting lowered client-acquisition costs.
In addition, there are some new, free ad features that could quickly enhance the efficacy of your online advertising.
In this article, I'm going to highlight some Google Ad best practices and show you real examples of ads that use these strategies, as well as some that are miserably failing.
Elements Of A Good Google Ad
According to WordStream research, the best Google PPC ad uses:
All relevant sitelink extensions
Top-performing words (your, free, get, our, save)
Top performing calls to action (words like "get")
Positive sentiment
Lexical diversity- many different words, instead of repetition
An exclamation point (or other relevant symbols)
No Dynamic Keyword Insertion
It's written at about a 9th grade reading level
A single, specific number in the description line
Read on and I'll highlight bad and good examples of each of these different PPC elements.
Google Ad Examples & Explanations
Need Digital Marketing Help?
Click below to schedule a free consultation:
1. Use Extensions
First of all, if you're advertising on Google Ads, formerly AdWords, you'll want to incorporate all of the platform's (relevant) Extensions for your ad copy:
Sitelink extension
Callout extension
Structured snippet extension
Call extension
Location extension
Affiliate location extension
Price extension
App extension
Promotion extension
You can see one therapy ad that incorporates Sitelink extensions with descriptive text:
Employing extensions is 'best practice' and takes up a ton more real estate at the top of Google Search and leads to more clicks.
This GoodTherapy ad uses the Price extension:

Understanding Google Ad Extensions
2. Best Performing Words
According to WordStream, the best performing ads commonly included these words:
Your
Free
Now
Get
Online
Our
Save
Best
Shipping
You
Thoughts
Try incorporating some of these words ("free", "your", "online") into your ad copy like this one did:

Remember, with Google Ads you can split test different ad copy.
Try creating a new ad that incorporates some of these keywords and run it alongside your old ad. Ideally, you'll be tracking Conversions in Google Ads (phone calls, form submissions, etc.) and you should use that information to assess its efficacy.
You'll also be able to check the CTR (click through rate) percentage, Quality Score, Cost Per Click and see if these words help to improve those metrics.
3. Best Calls To Action
According to WordStream research, the following words were the most successful CTAs:
Thoughts
According to WordStream, "The call to action, or CTA, is perhaps the most important component of your ad copy. If it doesn't live in one of your headlines, you're doing it wrong. If you can squeeze a reminder into the description or URL paths, do so." (Source)
Again, these are words you should incorporate into your ad copy and split test against your existing creative.
4. Sentiment
WordStream research revealed that "45% of the text ads conveyed a positive sentiment; 53% conveyed a neutral sentiment; and just 2% conveyed a negative sentiment." (Source)
Their recommendation was to prioritize inciting an emotion (any emotion, positive or negative) over and above neutral, boring languaging like this ad:

Here's one psychologist's ad that does incorporate some emotional languaging ("struggle", "compassionately"):

As an aside, you can also see, however, that there's a "Sample Page" as a Sitelink- an obvious error. Make sure you spot check your ads to avoid errors like this.
Here's another emotionally compelling ad:

"Struggling", "overwhelming" and "powerlessness" all are powerful, evocative words.
WordStream has some amazing examples of how to write emotional ads with extraordinary CTRs. Check out these three different text samples: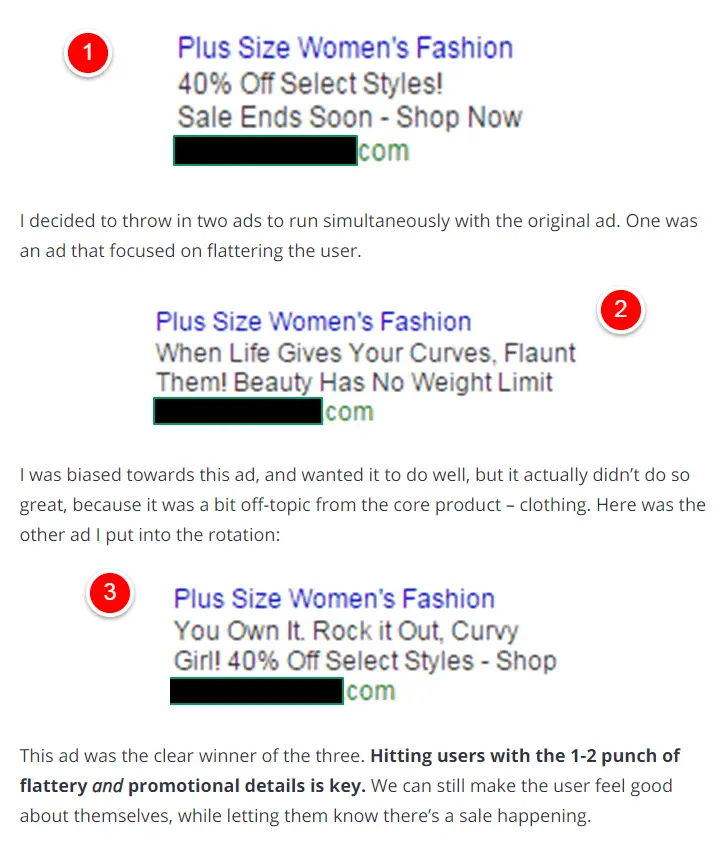 Thoughts
Obviously you want to maintain some professional decorum, but there's nothing wrong with inserting some emotionally evocative and eye-grabbing language that speaks to a person's presenting problem, i.e. depression, anxiety, grief, etc.
5. Lexical Diversity
According to WordStream, "top advertisers tend to repeat just 2 words per ad".
Thoughts
Instead of hammering the same word over and over, try to find (emotionally) engaging synonyms.
6. Punctuation
WordStream found that exclamation marks were the most popular and effective punctuation in top-performing ads. They advise that advertisers try out different punctuation marks in your Google Ad copy. Using different punctuation, especially if your competitors aren't, could be a valuable pattern interrupt that can help improve your performance.
Here's an example of an exclamation mark in the wild:

7. Dynamic Keyword Insertion
If you're unfamiliar with this Google Ad feature, according to Google it's "An advanced Google Ads feature that dynamically updates your ad text to include one of your keywords that matches a customer's search terms.""
How It Works
Thoughts
According to WordStream, dynamic keyword insertion is an "ad copy stopgap, not a solution. Relying on dynamic keyword insertion probably stifles your creativity, which is why ads using DKI aren't among the cream of the crop."
8. Use Of Numbers
According to this WordStream research, "just 40% of top-performing branded ads and 37% of non-branded ads include numbers."
Which is confusing, because when I created my mother's ad copy, I followed best practices at the time and I included a number (her years of experience).
After some Googling, I found a newer WordStream research that says, "numbers are easy to digest and understand, and studies show that incorporating them into your copy can make it appear more accurate and credible."
Even more interesting, they cited CopyBlogger research that shows that specific numbers "like 1,542 can improve performance over round numbers like 1,500+. If you're including a number, write out the exact number!"
Thoughts
I think it's worth experimenting with numbers in your ad copy- it certainly attracts the eye amidst a wall of words:

You can see a specific number "11+" and the $5 offer.

Here's another specific one- a 95%. Kind of a strange incentive- there's a 5% chance your session won't start on time.
9. Reading Level
WordStream concluded that "the average reading level of the copy in our set of best-performing ads is geared at a 14-year-old. So, if you want great CTR, write for a 9th grader!"
Thoughts
Within the internet marketing community, this is common knowledge.
If you're trying to get anyone to do anything on the internet, the language needs to be exceedingly simple.
Here's an example of an ad that's a bit clunky and is punching above a 9th grade reading level:

"evidence based treatments", "utilize", and "available research" are all very dry, complex-sounding concepts.
Compare that with something like this:
Short, simple sentences that promise fast, desired outcomes.
Summing Up
If you wanted to split test the efficacy of these recommendations, maybe you introduce one element at a time and run it against your standard, control copy.
Or, maybe jam-pack your new, experimental ad with all of these best practices at once and see what the outcome is.
You really need to be recording conversions, however, to actually assess performance improvements.
*Google and the Google logo are registered trademarks of Google LLC, used with permission.