How To Create SEO Content For Passive Client Acquisition [SEO For Therapists]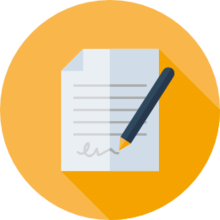 In this post, I discuss how to create or outsource content creation for your private practice using iWriter and get clients on autopilot.
If you're trying to 'do SEO", as the expression goes, the cost of entry is content.

To get free, organic traffic (and leads) to your website from search engines like Google and Bing, your best bet is to produce long (at least 1,000 word) articles targeting particular keyword topics related to your business.
Summary
​Getting Into It
Need Digital Marketing Help?
Click below to schedule a free consultation:
​As you can see from this serpIQ graphic below, the top results in Google are really long.
Why Long-Form Content?

​More long-tail keywords: Long-form content naturally includes more long-tail keywords, this naturally attracts more traffic to your content and website.
Greater depth: As well, longer content enables you to go into greater depth on a topic- this is something that Google prioritizes when determining where you rank in organic search, according to Moz.
If you were to add 10,000-20,000 words of content to your website in the form of 5-10 blog posts, it could have a HUGE impact on your practice. I recommend hiring a writer or using a textbroker like iWriter to inexpensively outsource your content.
The Good News About Local SEO
As a local area provider, it's important to understand that Google will customize many keyword searches to provide local area results.
For example, if you live in San Francisco, and searched for a "psychologist", you'd see something like this:

​As you can see, there are several local San Francisco websites on the first page amidst big players like GoodTherapy, Angie's List, etc.

This means that the local area content you are creating gets prioritized in local search. And there are thousands of search 'verticals' you can compete in just by writing a long article and publishing it on your website.

For example, if you write an article about the 10 benefits of "cognitive behavioral therapy" for your Miami-area private practice, you'll rank for a lot of local-area terms like "miami cbt", "florida cognitive behavioral therapy", "cbt near me", "miami cognitive psychologist" etc.

You don't have to worry about competing nationally for a competitive term like "cognitive behavioral therapy" because you're just looking to rank for your local-area audience.

And that's awesome!

In your CBT article, you can tactfully include some location keywords like "As a Miami-area therapist, I've provided CBT to many clients...". But you don't need to overdo it.
Don't Over-Optimize!

It's important not to 'over optimize' your content. The days of spamming a keyword hundreds of times into an article is over. From what I've been reading lately, many SEO experts are recommending you keep 'keyword density' under 3%.

You can check the keyword density with this free online tool by either entering a URL or pasting in some text.
How Much Content Should You Produce?
There's no set amount- but in my experience, publishing content has the highest ROI of any marketing spend.
For example, say you were to publish 20,000 words and using iWriter's Elite Plan it costs you $370.
For the sake of argument let's make it twenty 1,000 word articles targeting your local service areas ("miami child psychiatry", "new york pscyhodynamic therapy", "boston anxiety treatment", etc.). 
Let's say that after 60 days, you're regularly getting 1,000 visits a month to those 20 posts.
If just 3% of those visitors become clients and book and pay for just one appointment at $150, that's $4,500 in revenue, and a profit of $4,130.
And the good thing about it- your content will only age better over time, attracting more and more traffic.  
​Prioritize creating content that will get you business. ​For example, if you're a psychologist that specializes in treating depression and anxiety, focus on creating content around those two specialties, rather than a generic article ​unrelated to your actual service areas.

What Should You Do?
OK, this all sounds great- but what are next steps?

Your first option is to write the content yourself. This makes sense in a lot of cases- it might be important to maintain your voice across all of your blog posts.

However, you may not have the time or will power to begin churning out 2,000-word articles.
In my mother's case, I've begged and pleaded with her to write some content. But her writing process is a bit agonized- she dwells and rewrites over and over. Ultimately, nothing gets published.

If the thought of writing all this content gives you heart palpitations, the second option you can consider hiring a service to create the content for you. 
Done For You Writing Services (iWriter)
If you don't have the time to create content, there are some writing services you can use to get the content created for you.
I created a video for a different site of mine, NicheFacts.com, that shows how to order content from the iWriter text brokerage:
These 'text brokers' let you order unique content from their stable of writers. One such service is called iWriter.

Below, I'll walk you through ordering content from iWriter.

With iWriter, once you've added funds with PayPal, you're able to Order Content.

Below, is a screenshot of the order form with a content order I created for one of my websites.
Ordering The Content
From my research, iWriter users say it's important to specify that you don't want an SEO article.

A lot of writers are stuck in an old-school SEO mindset- cramming the same keyword into content over and over. As I mentioned, over-optimizing for keywords is not a smart SEO strategy nowadays.

As you can see, in the Brief Project Instructions section, I included directions to guard against this sort of spammy writing:

"IMPORTANT: This is not an SEO article. Please don't focus on keyword density and just write naturally.

1. Please use this tool (https://smallseotools.com/keyword-density-checker) to make sure no keyword is over 1.5% density in the finished article.

2. I'll be checking for plagiarism using Copyscape.

3. For this article, just focus on a general history of the crepe dessert. Avoid 'filler' language- every sentence should provide information, not empty content to fill out the word count."
(Feel free to copy these instructions when you place an order)

I also link to a keyword density tool- that way I can be assured that the finished writing isn't over-optimized. I also caution that I'll be using Copyscape, an industry leader in plagarism detection, to examine their work for uniqueness.
iWriter Pricing
Below, you can see what their pricing looks like for different word counts. There are categories for Standard, Premium, Elite and Elite Plus.
If you create a Standard order, your request can be serviced by anyone on the iWriter platform. 
With the higher 'skill levels', as iWriter calls them, your request will only be seen by writers that have better user ratings and more work under the belt.
I'd suggest going with Elite or Elite Plus content creation.

​Final Thoughts
​Publishing keyword-targeted content for your local audience is a powerful way to build an organic pipeline of leads for your private practice.
​If you don't have the time or interest to write it all yourself, outsourcing content creation to a text broker can be an effective way to inexpensively publish a lot of content very quickly.
If you run the numbers, as I did in the ROI section above, you can see that investing several hundred dollars into content will, based on conservative estimates, pay for itself pretty quickly.
Another ​benefit- if you focus your content creation around ​service areas you want to practice, it's an excellent way to bring in qualified leads.