6 Ways To Get The Private Practice Clients You Want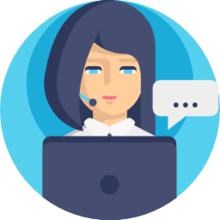 If you're trying to work with a specific type of clientele, there are some interesting digital strategies you can employ to funnel them into your private practice.
In this post, I'll walk you through some free and paid, targeted client acquisition strategies you can do yourself or outsource to an agency.

For example, in my mother's practice, since she doesn't take many types of insurance, I added common insurance types like "medicaid" and "GHI" as negative keywords in her AdWords account.

This means that if someone searches for a "ghi therapist" her ad doesn't display. Consequently, she's not paying for leads she can't actually service.

Sure, she still gets calls from people looking for a ghi therapist- but we at least weed out a bunch of clients from clicking our ads.

I'll discuss several strategies below that illustrate how you can use digital acquisition platforms to attract the sort of clientele you want to work with.
Google Ads (AdWords) & Bing
Negative Keywords
As I discussed above, adding negative keywords to your Campaigns will prevent your ad from showing to searchers looking for services you don't provide.
As you might imagine, this is an effective way to laser-target your ads to your ideal clientele.
If you take a look below, you'll see a list of some of the Negative Keywords we're currently using.
We exclude the word "1199", "acne", "blue cross", "anger", etc. from her Campaigns. This prevents her ad from triggering when searchers Google "acne therapist" or "anger therapy" or "blue cross therapist", etc.
A lot of these Negative Keywords will be obvious right off the bat.
Things like "free" and "massage" (as in "massage therapist"), but the best way to screen out Negative Keywords is to check the Search Terms tab:
This will show you the Keywords that are triggering your ads. Check this on an ongoing basis and build up your Negative Keyword list!
For instance, I just checked it and found two new Negative Keywords I should add: "wood" and "flotation":
Low Quality Leads
You can also add negative keywords to screen out low-value clients. For example, clients looking for "free therapy", you'd want to exclude the keyword "free".
You might want to exclude a keyword like "social worker" because it's a lower value keyword than therapist or psychologist.

Negative keywords are a bit of an art form- you don't want to add a negative keyword that's too broad and mistakenly limit the number of impressions your ad receives.
The video below walks you through how to setup negative keywords without compromising your entire Campaign.
Target By Location
In our case, since she practices on an island, it was easy to just target Staten Island. We know that people from Brooklyn, New Jersey or Manhattan are not going to be coming to Staten Island for therapy.

In your own case, it might make sense to limit the reach of your ads to a certain radius, or even exclude certain zip codes.
Location targeting is obviously a pretty basic feature, but you can get a bit more granular with it.
For example, another interesting strategy we've played around with is targeting high net worth zip codes on Staten Island, where she practices. There are a bunch of sites that show you income by zip code (like this one).
As you can see below, you can map income levels to different neighborhoods:
Targeting certain zip codes in your area can be effective- especially if you know that they are higher-income.
Or they might be a demographic you find more appealing. This might help you convert more high-quality clients if you're advertising to people who can afford your services.
Positive Keywords
The most obvious way to target different types of clients is to focus on your keywords.
For example, if you want to to expand your practice into cognitive assessments, you'll want to incorporate those types of keywords into your Campaign.
Pretty obvious stuff. When I do keyword research, I use an SEO software called Ahrefs.
Below I ran PsychologyToday.com through the software, checked which keywords it ranks for, and filtered it by the keyword "therapy" to get a list of keywords that are clearly service-oriented:
This is basically how the pros are doing keyword research. If you want to explore these keywords, I created a table of them below:
You're probably not going to shell out $99/month for Ahrefs, so I would suggest getting familiar with AdWords' Keyword Planner tool:
The point, though, is that you can really laser-target your ads to specific types of searches. As you can see in the Ahrefs keyword table "cbt therapy" is a 16,000/month search term.
You could laser-target specific ads to users Googling that term in your location and even drive them to a custom landing page (as opposed to your generic home page).

You might want to shift the majority of your budget into 'condition keywords' as opposed to generic ones like "therapist" or "psychologist" if you're more interested in targeting specific types of clientwork.
Understanding Searcher Intention
It's important, though, to understand searcher intention. Someone Googling "cognitive assessment", there's a good chance they're just looking for information as opposed to your service.
Your ad can help clarify that you're a service provider rather than an informational Wikipedia article.
As well, since you're likely targeting a 30 mile area around your practice, as opposed to nationally, there aren't going to be that many searches for such a niche term. That dramatically reduces the number of bad clicks your ad will get.

Still, it's important to understand that many Google searches are people looking for information, not your service.
That's why generic keywords like "psychologist" are pretty functional- it's obvious that searchers are looking for a provider. You can add negative keywords to an Ad Group or Campaign, in that instance, to weed out people searching for terms like "how to become a psychologist".
Or perhaps you just use the different Match Types to function as a restriction. For example, an Exact Match [psychologist] keyword means your ad will only trigger for people searching for that exact term.
In summary- you can see there's some clever targeting features you can employ to hone in on the clients you want to work with.
If you'd like to have an expert review your AdWords account, I partner with HigherVisibility. They can audit your existing account and help you deploy more advanced strategies to optimize your advertising.
Age & Gender Targeting
AdWords also lets you do some demographic targeting (read more). Below you can see that for a particular Ad Group, I'm able to target by gender and age range:
This is another interesting targeting capability- it's something you might want to consider testing if you have some preference regarding the age or gender of your clientele.
Content
I go on about this a lot- but creating content around the specialties you want to practice is an amazing way to get high-quality leads.
Below is 1,000 content ideas, and search volumes, extrapolated from PsychologyToday's organic keyword rankings:
Whether you're writing content that ranks in Google, creating YouTube videos, publishing on third-party platforms like Medium, if you create content on "cognitive assessments", there's a good chance people in the market for a cognitive assessment will stumble across your content and connect with you.

For example, using the Cognitive Assesment example, you could create:
A 1,500 word article you publish on your site.
A 10 minute YouTube video.
A republished post on Medium with the video embedded.
Social posts on all of your social media channels with researched hashtags to increase discoverability (use hashtagify to find the best hashtags).
If you do this for 10-15 pieces of content- I'm confident you'll start seeing positive results.
Facebook Ads
Facebook offers the most powerful targeting capabilities you'll find online.
While AdWords powerfully targets searcher intent (ads display based on keyword searches) with Facebook your advertising appears unsolicited in a user's feed. That means 'buyer intention' is much lower.
However, according to Moz, it's the cheapest way you're going to reach 1,000 people:
In the screengrab below, you can see that I created an ad that targets NYC residents who expressed an interest in "caregiving":
As I wrote earlier- this could be a good population to experiment with if you're targeting geriatric cognitive assessments.
Facebook Ads does require some ongoing maintenance. It's not set it and forget it like AdWords can be.
If you don't have the time or interest to run the ads yourself, I'd suggest experimenting with outsourcing this marketing responsibility to a digital agency.
As well, there are some restrictions you should be aware of if you're advertising mental health services. Check out some Facebook guidelines. Here's a snippet, as of August 2018:
"Ads must not contain content that asserts or implies personal attributes. This includes direct or indirect assertions or implications about a person's race, ethnic origin, religion, beliefs, age, sexual orientation or practices, gender identity, disability, medical condition (including physical or mental health), financial status, membership in a trade union, criminal record, or name."
Join Niche Facebook Groups
The idea here is to join and participate in niche Facebook Groups as a subject matter expert. You're not joining just to promote your service, but rather to engage in discussion on the topic.

Back to the cognitive assessment example, you can find a caregiver support Group if you're interested in supporting that type of clientele.
There's probably a bunch of people who would love to hear your expertise on cognitive assessments for the elderly.
Many of them will click through to your personal profile and your website- this is a great way to get 'warm', organic leads.
Specialized Directories
Specialized directories like GoodTherapy let you choose "common specialties".
So when prospective clients use the site's advanced search functionality they'll be able to see your listing if you've tagged yourself as an "anger management" provider:
This is another way to get some targeted visibility.
Local Meetups
I've written about this strategy before- basically you'll use websites and apps like Facebook Local, Meetup.com and Eventbrite to find (or even create) local events relevant to your practice.
Try downloading these apps to your phone and filtering through them for local events relevant to your business.
They could even be local business networking events- they don't have to be groups related to therapy.
Meeting other local business owners can be a great way to network, share advice, and even receive referrals.
Here's an event occurring soon near me- a local event for therapists:
There you have it- some specialized marketing strategies to acquire the clients that you want.
I'd recommend choosing a couple to implement at first- and then execute on them.
You can combine a couple different options- do 2 local meetups a week combined with Facebook Group interaction, for example.